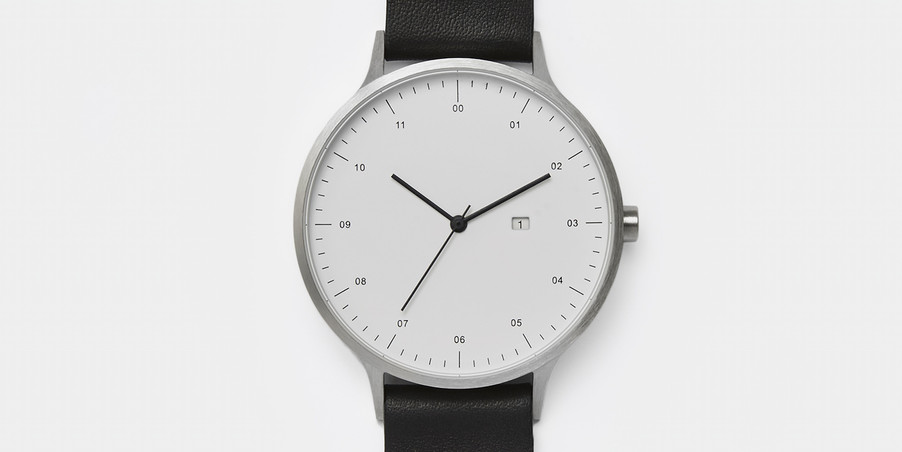 Each of our 01 series watches were designed with care in our Glasgow studio. They take inspiration from the industrial design of the mid 20th century and our own personal desire for a watch that paired high quality swiss components with simple, utilitarian design. We want to know the time and the date. That's it.
Zoals de bovenaanstaande quote al aangeeft is de INSTRMNT 01 een horloge waarbij het draait om eenvoud: tijd, datum en verder geen fratsen. En dat is ze goed gelukt, want bijna 1000 kickstarters hebben dit horloge aangeschaft. Jawel dit horloge is weer een van de succesvolle Kickstarter horloge projecten, welke nu ook gewoon te koop is. Het horloge komt voort uit een het brein van een kleine design studio genaamd Instrmnt Limited in het Ierse Glasgow.
De technische specificaties zijn zoals de meeste kickstarter horloges: swiss quartz movement, saffier glas en een leren band. Het ontwerp maakt het horloge bijzonder. Bij elk uur staat in kleine cijfers het uur weergegeven. Doordat de wijzers kort zijn, krijg je een mooie lijn van wijzer naar uurweergave en precieze tijdsaanduiding. De datumweergave staat op de plek van 3 uur maar een stuk meer naar binnen, zodat de uurweergave niet onderbroken wordt.
Om het verhaal compleet te maken: De horlogekast is van staal en meet 40mm.Het INSTRMNT horloge is verkrijgbaar met witte of zwarte wijzerplaat en de horlogekast in mat staal, zwart of goudkleurig.
Qua design een mooi horloge alleen de prijs is redelijk aan de hoge kant voor een quartz. Horloge kost toch nog 250 euro.
In close up
Swiss Ronda 585 3H movement
PVD coated 40mm steel casing
Sapphire crystal glass
18 MM German leather strap
5 ATM water resistance
1 year warranty